Countdown to opening day 2014:
days
hrs
min
sec
In a move that didn't surprise me in the least the Mets announced today that Wally Backman will return as manager of their AAA affiliate which will be in Las Vegas this season. Backman guided last year's AAA affiliate, the Buffalo Bisons, to a 67-76 record and has a career minor league managerial record of 601-564. The appointment shows that the plan to make Backman the heir apparent to the Mets managerial job is still in effect.
Comments to this post
The Mets have redesigned their batting practice cap to feature Mr. Met on the front. I can sum up my feelings about this in three letters: WTF?!?!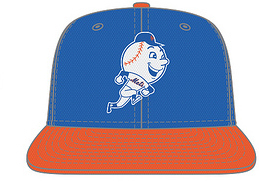 I like Mr. Met as much as the next guy but putting him on the front of the cap is the wrong move. I know it sounds old school but the front of the cap is where the team logo belongs. If the mascot is going to be anywhere on the uniform it should be as a sleeve patch (which the Mets did with Mr. Met a few years ago). Thought I don't like the idea of batting practice caps since they are strictly for marketing ("buy all 6 of the caps the team will be wearing this season") I can understand the cap being less formal than a game cap. So if you must put Mr. Met on it put him on the side or the back where he compliments your main brand which is the team logo.
Comments to this post
Reports today are that R.A. Dickey has agreed to a contract extension which would allow his trade to the Toronto Blue Jays to be completed. Josh Thole and a "non-elite minor leaguer" will join Dickey in Toronto. In exchange the Mets will get catching prospect Travis d'Arnaud, catcher John Buck, pitching prospect Noah Syndergaard and either cash or another "non-elite minor leaguer". Dickey was reportedly headed to Florida for a physical with the Blue Jays today.
Putting aside the argument of if the Mets should have signed Dickey or not (that's a heated discussion in and of itself) this is a pretty good deal. With this trade the Mets manage to turn a 38 year old pitcher and underachieving catcher into a top catching prospect and top pitching prospect (plus a journeyman catcher) adding youth and shedding payroll in the process. These are the types of things you need to do to build an organization that can contend long term.
If the Mets were one player away (as they were after the 1984 season when they traded for Gary Carter) my opinion may be different. But the Mets with Dickey in 2013 are not likely to go any further than the Mets without Dickey in 2013.
Update: Latest reports say that the "non-elite minor leaguer" the Mets are giving in this trade is Mike Nickeas and the "non-elite minor leaguer" the Blue Jays are giving is 18-year-old OF Wuilmer Becerra.
Comments to this post
Mets utility man Jordany Valdespin posted a few pics to hi Twitter feed today including this one of him wearing a Miami Marlins cap.
Obviously the cap has no bearing on where his allegiance is as a player but it is uncool. The last thing fans want to see is one of their players wearing another team's colors.
Comments to this post
Comments to this post
The 2011 season brought the Mets a pleasant surprise in the emergence of R.A. Dickey. The knuckleballer defied the odds by winning 20 games and collecting Cy Young award honors.
As pleasant as that is it also brings the Mets a dilemma: to sign or not to sign.
Dickey had been an above average pitcher since joining the Mets in 2010. Considering the teams' losing ways 19-22 with a 3.08 ERA in his first 2 seasons with the team can be looked at as excellent. Add the Cy Young season and his stock rises even higher.
But there's a problem here. Dickey has a career ERA of 3.98 which is made better by his numbers with the Mets. Has he hit the top of his ability? Can he sustain this kind of performance? And, at 38, how long can he continue to pitch (especially in the National League)?
Dickey will command top dollar but considering the above I can't see how he'd be worth it. Although he's coming off a career season his performance is bound to normalize.
The Mets are best to learn from experience. Don't pay top dollar for a player coming off a career year. This mistake has bitten them in the past (remember Bobby Bonilla?). They can't afford to have it happen again.
Comments to this post
Just in time for the holiday season we finally have an estimate of David Wright's dollar value on the market. This comes courtesy of the Tampa Bay Rays and Evan Longoria.
Longoria signed an extension through the 2022 season giving him 10-years worth $136.6 million. The extension is actually worth $16.7 million a year (starting in 1017) and when matched up with other contracts recently signed by third basemen, such as Ryan Zimmerman ($16.6 million per), and we arrive at the mid to upper $16 million range. That is exactly what the Mets have been rumored as offering.
Is Wright worth that kind of money? He's at a different stage of his career than Longoria, who is younger and arguably a better player. The Mets also need more improvement in other areas than the Rays do and may not be able to spend as much (or commit as long) to one player. But he's also coming off a good year that will push his value up.
I don't really have a conclusion to the question of what Wright will or should get but it'll be interesting to see how the situation plays out.
Comments to this post
There's a big stink being made by Knicks fans about the team letting Jeremy Lin go to the Houston Rockets as a restricted free agent. Anger is being aimed toward the team, owner James Dolan and even at Lin himself over this issue. But the anger here is ridiculous.
Lin played regularly for just 26 games this past season before getting injured. It was the first regular playing time of his career. He showed fans that he can play at an elevated level and the fans loved him for it. But it was just 26 games.
I don't mean to demean Lin or minimize the tremendous contribution he made to the Knicks last season but after just 26 games of regular playing time I think it would be fair to say he's still a developing player. Yes, a developing player with some solid cred to build on and a starting job going into camp. But still a developing player.
Should a developing player be given a $25.3 million contract over 3 years? And what about the luxury tax hit the team will take for Lin? (The luxury tax could be as much as $50 million.)
If Lin started all last year and managed to keep up a consistently high level of play I'd be all in. But this is an awfully large sum of money to invest on a player based on such a small sample size of games regardless of the level of performance in those games. I'll be happy if the Knicks end up signing Lin but not upset at them if they don't.
Comments to this post
I was watching some of the Home Run Derby last night with my son and marveled at his fascination while he watched. The enthusiasm he had whenever a ball went over the wall, especially when they fell into the fountain at Kansas City's Kaufman Stadium, was off the charts. (Maybe I can get him to CitiField next year to see balls hit to Shea Bridge.) To him the Derby was electric.
But when I checked my Twitter feed I got a whole different view of the Derby. It was a negative view. People saying how it was useless and a waste of time and other things that I won't repeat. But seeing my son watching I'd beg to differ. In fact his excitment is exactly the reaction that fans used to have for the All Star Game.
Much has been said about the All Star Game over the years. It used to be a showcase of the best talent in the game. But as salaries rose and players attitudes changed and the process for choosing players came under fire the game devolved. Making the game count for home field advantage in the World Series didn't help things either. (It may have made things worse.) The game is barely watchable anymore.
But the exuberance my son displayed as he watched the Derby was the same I had as a kid watching the All Star Game in the 1970s. So while the act of a home run derby may seem silly to many it appears to be accomplishing the original goal of the Game: put on an exhibition to showcase the talent and excitment that is Major League Baseball.
Comments to this post
For various reasons I don't get to watch very many Mets games. And most of the games I do watch I watch alone. To help make the experience less lonely I often watch with my laptop open and monitor my Twitter feed during the game. The interaction with other fans helps make it feel as if I'm watching with a group (which is always a better way to watch a sporting event). Last night I watched a game like this for the first time in a few weeks and it was a very revealing experience.
One of the hot topics of discussion by Mets fans over the last few years has been the performance (or lack thereof) of Jason Bay. Since being acquired by the Mets Bay has hit .245 with 21 home runs and 109 RBI. His OPS with the Mets is .713, well below his career mark of .859 and the .915 he had in a year and a half with the Red Sox. He's also spent 40% of his time with the Mets on the disabled list. Did I mention he's getting paid $66 million over 4 years for this performance?
As Bay went 0 for 5 last night, extending his hitless streak to 16 at bats since being activated from his latest stint on the DL, fans are growing more and more frustrated. I'm with them on that. He's being paid a lot of money to fill a role that he has not been able to perform in. But what finally sank in to me last night as I watched my Twitter stream is that many Mets fans are actually rooting against Bay.
This was a revelation to me. How can you root against a guy on your team? I can understand if a players poor performance, whether on the field or off, makes it hard to root for him. But against him? What does that accomplish?
It's obvious that Bay is not working out for the Mets. It's obvious that fans want him gone. But is rooting against him going to hasten his exit? Or just prolong his stay?
And what about the team? Isn't rooting against one of the players akin to rooting against the team?
I take the opposite approach. I root for him. I want him to turn it around. I want him to succeed. I want him to get hits, knock in runs, etc. The more the better. Why? Because every hit he gets helps the team. Every play he makes helps the team.
And if you're one of the people who want Bay off the team (and I'm not saying that would be wrong) then you should be rooting for him too. Why? Because nobody will take him off the Mets hands unless he starts performing.
So I ask once again: How can you root against a guy on your team?
Comments to this post