The day we all feared has finally come. The Mets announced yesterday that Johan Santana has a recurrence of the same injury that kept him out for the whole 2011 season and likely has thrown his last pitch as a Met, possibly of his career. I actually did not have very high expectations for Santana this year but am sad to see it end this way.
The end of Santana ushers in the end of the Omar Minaya era (error?). He's the last of the expensive free agents Minaya signed to remain be with the team. Minaya was always in what I call "one player away mode" signing the one big player he thought would get the team over the top. The problem is that the team was actually more than one player away and Minaya's strategy led to a house of cards that quickly came crashing down when the wind blew in the wrong direction.
Now that Santana is out of the picture the Mets commitment to developing their younger pitchers will be put to the test. Hopefully this will not cause them to rush anyone along.
Comments to this post
The Mets have added two righthanders to the bullpen in the last 24 hours when they signed Scott Atchison and LaTroy Hawkins. To say that these are not spectacular signings is an understatement but these two could be of help. The level of experience in the Mets bullpen is lacking in experience. Names like Josh Edgin, Robert Carson and Elvin Ramirez hardly instill confidence. Jeurys Familia, while showing promise as a starter in the minors, is also inexperienced at the major league level.
At the ages of 37 and 42 respectively Atchison and Hawkins are still capable of contributing 40+ appearances each. And considering these are minor league deals with invitations to spring training there is minimal risk in these signings.
Comments to this post
In a move that didn't surprise me in the least the Mets announced today that Wally Backman will return as manager of their AAA affiliate which will be in Las Vegas this season. Backman guided last year's AAA affiliate, the Buffalo Bisons, to a 67-76 record and has a career minor league managerial record of 601-564. The appointment shows that the plan to make Backman the heir apparent to the Mets managerial job is still in effect.
Comments to this post
The Mets have redesigned their batting practice cap to feature Mr. Met on the front. I can sum up my feelings about this in three letters: WTF?!?!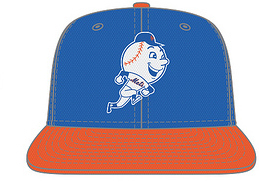 I like Mr. Met as much as the next guy but putting him on the front of the cap is the wrong move. I know it sounds old school but the front of the cap is where the team logo belongs. If the mascot is going to be anywhere on the uniform it should be as a sleeve patch (which the Mets did with Mr. Met a few years ago). Thought I don't like the idea of batting practice caps since they are strictly for marketing ("buy all 6 of the caps the team will be wearing this season") I can understand the cap being less formal than a game cap. So if you must put Mr. Met on it put him on the side or the back where he compliments your main brand which is the team logo.
Comments to this post
Reports today are that R.A. Dickey has agreed to a contract extension which would allow his trade to the Toronto Blue Jays to be completed. Josh Thole and a "non-elite minor leaguer" will join Dickey in Toronto. In exchange the Mets will get catching prospect Travis d'Arnaud, catcher John Buck, pitching prospect Noah Syndergaard and either cash or another "non-elite minor leaguer". Dickey was reportedly headed to Florida for a physical with the Blue Jays today.
Putting aside the argument of if the Mets should have signed Dickey or not (that's a heated discussion in and of itself) this is a pretty good deal. With this trade the Mets manage to turn a 38 year old pitcher and underachieving catcher into a top catching prospect and top pitching prospect (plus a journeyman catcher) adding youth and shedding payroll in the process. These are the types of things you need to do to build an organization that can contend long term.
If the Mets were one player away (as they were after the 1984 season when they traded for Gary Carter) my opinion may be different. But the Mets with Dickey in 2013 are not likely to go any further than the Mets without Dickey in 2013.
Update: Latest reports say that the "non-elite minor leaguer" the Mets are giving in this trade is Mike Nickeas and the "non-elite minor leaguer" the Blue Jays are giving is 18-year-old OF Wuilmer Becerra.
Comments to this post
Mets utility man Jordany Valdespin posted a few pics to hi Twitter feed today including this one of him wearing a Miami Marlins cap.
Obviously the cap has no bearing on where his allegiance is as a player but it is uncool. The last thing fans want to see is one of their players wearing another team's colors.
Comments to this post
Comments to this post
The 2011 season brought the Mets a pleasant surprise in the emergence of R.A. Dickey. The knuckleballer defied the odds by winning 20 games and collecting Cy Young award honors.
As pleasant as that is it also brings the Mets a dilemma: to sign or not to sign.
Dickey had been an above average pitcher since joining the Mets in 2010. Considering the teams' losing ways 19-22 with a 3.08 ERA in his first 2 seasons with the team can be looked at as excellent. Add the Cy Young season and his stock rises even higher.
But there's a problem here. Dickey has a career ERA of 3.98 which is made better by his numbers with the Mets. Has he hit the top of his ability? Can he sustain this kind of performance? And, at 38, how long can he continue to pitch (especially in the National League)?
Dickey will command top dollar but considering the above I can't see how he'd be worth it. Although he's coming off a career season his performance is bound to normalize.
The Mets are best to learn from experience. Don't pay top dollar for a player coming off a career year. This mistake has bitten them in the past (remember Bobby Bonilla?). They can't afford to have it happen again.
Comments to this post
Just in time for the holiday season we finally have an estimate of David Wright's dollar value on the market. This comes courtesy of the Tampa Bay Rays and Evan Longoria.
Longoria signed an extension through the 2022 season giving him 10-years worth $136.6 million. The extension is actually worth $16.7 million a year (starting in 1017) and when matched up with other contracts recently signed by third basemen, such as Ryan Zimmerman ($16.6 million per), and we arrive at the mid to upper $16 million range. That is exactly what the Mets have been rumored as offering.
Is Wright worth that kind of money? He's at a different stage of his career than Longoria, who is younger and arguably a better player. The Mets also need more improvement in other areas than the Rays do and may not be able to spend as much (or commit as long) to one player. But he's also coming off a good year that will push his value up.
I don't really have a conclusion to the question of what Wright will or should get but it'll be interesting to see how the situation plays out.
Comments to this post
There's a big stink being made by Knicks fans about the team letting Jeremy Lin go to the Houston Rockets as a restricted free agent. Anger is being aimed toward the team, owner James Dolan and even at Lin himself over this issue. But the anger here is ridiculous.
Lin played regularly for just 26 games this past season before getting injured. It was the first regular playing time of his career. He showed fans that he can play at an elevated level and the fans loved him for it. But it was just 26 games.
I don't mean to demean Lin or minimize the tremendous contribution he made to the Knicks last season but after just 26 games of regular playing time I think it would be fair to say he's still a developing player. Yes, a developing player with some solid cred to build on and a starting job going into camp. But still a developing player.
Should a developing player be given a $25.3 million contract over 3 years? And what about the luxury tax hit the team will take for Lin? (The luxury tax could be as much as $50 million.)
If Lin started all last year and managed to keep up a consistently high level of play I'd be all in. But this is an awfully large sum of money to invest on a player based on such a small sample size of games regardless of the level of performance in those games. I'll be happy if the Knicks end up signing Lin but not upset at them if they don't.
Comments to this post