The Mets are 7.5 games out of first place.
Last updated: 09/24/2016 - 4:55 PM UTC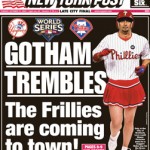 I don't normally like this kind of gamesmanship or journalism but the New York Post sported a front page today where they referred to the the Phillies as the Frillies and a Photoshoped picture of Shane Victorino in a skirt. A treat for any Mets fan (always) and any Yankees fan (this week).
If you enjoyed this post, please consider to leave a comment or subscribe to the feed and get future articles delivered to your feed reader.