Someone in the Sons of Sam Horn forum called Wade Boggs Hair had an interesting idea:
As good citizens of NatsTown, I think we need to get as many Natinals on the All-Star team as possible.

Specifically, Lastings Milledge is on the NL All-Star ballot. He needs to make the team. Nothing would be more NatsTown than having the Natinals' (lone?) All-Star game representative be a AAA player for whom the organization has no plan.

How can we make this happen?
What an interesting way to send a message to the management of a couple of teams.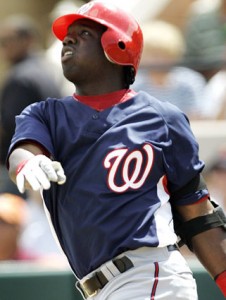 (I know Milledge had his problems when he was with the Mets but he may be the spark plug that this team needs. The Mets are obviously committed to Daniel Murphy in left this year but what about next year when Carlos Delgado will likely be gone and Murphy moves to first base? Worth thinking about.)
Let's not read too much into his .167 average. According to Matt Gelb of The Washington Post in an articleon Monday the Nationals coaches were trying to change his approach at the plate in order to make him a leadoff hitter. I'm all for players being patient at the plate and seeing more pitches. But here's a guy who was a rising star coming off his first full season and blossoming into a good hitter. He may not turn into the 3rd or 4th place hitter you want but he was quickly becoming a player who could be a threat at the plate.
So what does Manny Acta do? He pulls Milledge aside and says we're going to change what you do so you can become a leadoff guy. Next thing you know he's at AAA trying to unlearn what he was just taught in an effort to prove he should be at the major league level.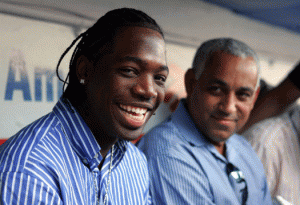 It's possible, in my mind, that Milledge may already be done in Washington. Not because of his immaturity, as we all expected to be the case, but because the team has mishandled him. Once his swing is back in order (he's batting .263 with 4 doubles) the only incentive he has to return to the Nats lineup (if/when they recall him) is to try to revive his trade value so he can get out of there.
What could be a better way to show up the Nationals, who are mismanaging this potential slugger, and the Mets, who traded him away, than Milledge being voted to the All Star game by the fans? What do you think?
If you enjoyed this post, please consider to leave a comment or subscribe to the feed and get future articles delivered to your feed reader.